This page features papers I have written to emphasise the aspects of change management that I believe are important and should be addressed by organisations who wish to 'stay ahead of the game'.
——————————————————————————————————————
Change Management Capability
This is one area that, if not addressed, severely disadvantages organisations who are faced with increasing competition and other challenges e.g. the fall-out from United Kingdom Strategic Defence Reviews (UKSDR).
This paper describes the need for and nature of an indigenous organisational change management capability and then describes the criteria that an organisation could use to decide if it should establish its own change management capability or not.
——————————————————————————————————————
The Case for Permanent Organisational Change Management Capability
Neil White
 Managing Director – Change Vista Ltd
Introduction
Over the years I have witnessed first-hand the problems and struggle that many organisations grapple with when faced with the need to make changes. This true whether those changes were in order to improve business performance or address significant market or economic environmental concerns. The reality today, though, is that changes to enhance performance are fast being supplanted by changes that need to be made to survive in the market place. The prevailing change drivers which most organisations are not able to isolate themselves from and must be accommodated include: 
global and national economics

burgeoning advances in technology

environmental interests

socio-cultural changes

increasingly, the desires and interests of individuals

emerging communication paradigms

world events (natural disasters, conflicts etc)    
This need to respond to the drivers for change must be juxtaposed with the fact that, since it was first exemplified towards the end of the last century, 70% of change initiatives fail to deliver their expected benefits or even fail completely. The rate of failure has not improved (Kotter, 1969; Beer & Nohria, 2000). It is a tenet of this paper that, at the time of writing, many change initiatives are still failing simply because they have been approached in the wrong manner and imposed upon organisations that are ill-equipped and ill-prepared to accommodate change. 
Whatever the change need, an organisation must be able to focus its attention on achieving the required changes and not absorb time and costs on trying to resolve how the required change initiative is to be managed. Even the move to new premises or installation of new equipment can present a significant challenge to a business and often results in an unexpected reduction in performance , productivity and/or increased cost. When the need for change has been identified and validated an organisation must be able to make the required changes with the least disruption to its business operation, and increasingly, with the full support of its workforce; this especially because they will need to be 'on-side' for the next change!
This paper proposes an organisational approach to Change Management that not only seeks to address the change drivers described above but also enable organisations to welcome and exploit the opportunities that the increasing number of change drivers represent. Increasingly this is underpinned by the grim reality that: 
'If you cannot exploit it then another rival organisation will' 
The changing nature of transformational change
Some change needs can be accommodated through 'continuous improvement' initiatives whilst others require more fundamental and radical changes to the way an organisation operates; the latter type of change often being referred to as 'transformational' or, in some quarters, discontinuous change (Hayes, 2007). Whilst this paper recognises that all organisational change must be managed in a coordinated and integral manner, its main focus is on addressing an organisation's capability to 'do new things' or introduce 'new ways of working' i.e. undertake transformational change. 
Due to the increasingly competitive and dynamic environments in which organisations now operate, the scope and frequency of 'transformational' change has increased significantly. The now ageing concept of the burning platform (Conner, 1992) is increasingly looking like it has reached retirement age. The urgency that such metaphors infer is simply unsustainable when considered in the light of organisations that must reconcile both more frequent and more numerous change drivers. Change has become such a constant that it is now imperative that organisations avail themselves of the facility to respond appropriately to the pressures of change. In answering this need and indeed, even in order to survive, organisations must be able to make the required changes in a timely and effective manner (Burnes 2009, Cameron and Green 2009, Harris 1997, Paton and McCalman 2008, Senior and Fleming 2006). In reality, unless the changes are implemented and become 'business as usual' in a realistic time frame they will themselves become obsolete, superseded by the next big change need which, all the indicators suggest, will emerge quicker than the last! 
Although there are many drivers for transformational change, the net result of all such undertakings must address the longer term aspirations of an organisation. These might include the need to reinforce or protect its position in its existing market or to achieve a step change in its efficiency and performance. Whatever the driver and whatever the desired new state to be achieved two things are certain. 
It will result in at least a temporary reduction of business performance (Elrod and Tippett, June 2001) 

The organisation's stakeholder community will be impacted 
Of the first, the scale and duration of the reduced performance will be directly proportional to the organisation's ability to undertake the changes. Of the second, whether they are internal staff, customers or suppliers, any changes that impact people must be carefully assessed and managed. The organisation must accommodate, respect and reconcile its stakeholder community and harness them as a force for good and position them as important players in a successful future. Failure to do so can, and often does, result in failure. As is the case with many management terms, the term 'stakeholder', is often misused or used without full cognisance of the scope and the criticality of its function. Rather than the approach, frequently witnessed in the Project Management fraternity, which uses passive communication as its mainstay to satisfy its stakeholder needs, it is more about establishing and maintaining working relationships, partnerships and formal and informal contracts.
Increased understanding of the organisational change dynamic and developments in project and change management methods have enabled organisations to approach major, even transformational, change initiatives in an increasingly agile manner. By establishing a portfolio management approach to achieving its strategic change objectives an organisation can optimise and prioritise its change agenda so as to focus on those changes that deliver the greatest business benefits for the organisation. This approach, enabled in great part by the adoption of a benefits management approach to change (Jenner, 2012), enables a more granular and selective approach to the management of organisational change. Resource management can be optimised whilst the impact and effects of change can be managed in a more controlled and focussed manner. Changes can be grouped, localised and expedited with the minimum of disruption to business operations whilst maximising business benefits. 
The role of Change Management in the organisation
This paper is predicated on the view that it is substantially beneficial for 'someone' or some 'body' within an organisation, to operate from an idealist Change Management standpoint and take responsibility for ensuring that the organisation is well prepared and able to respond to the prevailing drivers of change.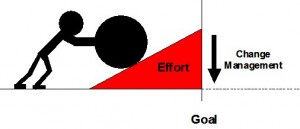 As with all business concerns, compromise and pragmatism must prevail but it is apparent that such compromise is best made from the Change Management 'high-ground'. An organisation not having the 'high-ground' in this instance is characterised as one that has poor change management knowledge, training and insight on how changes to their organisation should be managed. If a compelling change need arises both the 'change' and the 'change method' must be addressed from scratch, presenting in itself a major risk of change failure. Knowledge of both the changes to be made and how best to make them, greatly improve the chances of a successful change outcome. This view is reinforced by the increasing recognition of the important role knowledge plays in all aspects of life and especially in business change (Paton and McCalman, 2008). 
It 'costs' to 'get up there' but once the appropriate Change Management capability 'high-ground'  has been attained the choices and ability to direct and steer the organisation are plain to see. 
It is clear those organisations that are able to detect and respond to the drivers of change will become able to differentiate themselves and thereby gain an advantage on their rival, and often predatory, organisations. Instead of change having to be grudgingly endured, tolerated or even ignored, organisations that are able to make the transition and become change-enabled entities are enabled to regard emergent change needs as emergent change opportunities.  
It is increasingly clear that, if it is to succeed and flourish an organisation must come to terms with, and preferably embrace, Change Management as an indigenous force for good. Over time, organisations that are unable or slow to adapt to the changing environment in which they are operating (Argyris, 1977) will become less efficient and, ultimately, vulnerable (e.g. Marconi, Comet, Jessops, Play etc). In short, the ability of an organisation to respond to change and thereby 'differentiate' itself is now as important as making the individual changes themselves. 
Why a Change Management Capability?
There are changes that an organisation needs to make and changes it wants to make. From whichever standpoint, and from where the need for change arises, the drivers are often best reconciled when the organisation is able to draw upon its own dedicated Change Management Capability. 
The concept of an established Change Management Capability can be seen as a direct response to the overarching fact that, in many cases, organisations have little or no 'Change Memory'. That is, good or bad experiences (all of which could provide valuable information to inform future change) are not captured and capitalised upon for the greater good of the organisation and its people. 
To this end I consider that a fundamental objective of an organisational Change Management capability is to: 
'enable an organisation, and its people, to accommodate change and thereby succeed and flourish in its chosen operating environment' 
The special case of 'Change Memory' 
I have seen many good examples of Change Management in organisations over the years, which, for a variety of reasons, have been poorly recorded and over time have become 'lost'.  This has been seen to occur at all levels of the organisation and the opportunity for the whole organisation to benefit from its experiences is denied. The most effective improvements that an organisation can make are those that are sourced, harnessed and reused as a result of its own experiences (Kolb, 1984). 
In using the term 'Change Memory' I draw attention to what I see as key attributes of a Change Management capability: 
the facility to capture and validate the experiences and outputs from an organisation's  Change Management activities

the provision of a managed repository of 'change experiences' and 'lessons learned'

the ability to retrieve Change Management assets from the repository

the cultural ability to capitalise on recorded change experiences to improve future change performance 
Whether they are good or bad, access to the results of previous change initiatives provides a significant insight into the relative effectiveness of past change project activities. These lessons learned provide a worthy benchmark for future enhancements and improvements throughout the organisation. The experiences and lessons learned by the organisation itself, as Kolb (1984) suggests, carry far more weight than the 'experiences' imported from external sources.  
It should be recognised that gathering and qualifying information to build up a 'body of Change Management knowledge' is the relatively easy part of establishing such a 'Change Memory' facility. Creating a 'shared data environment' whereby anybody in the organisation can access the information is more complicated to achieve. Also, the training and educating of an organisation's people on the need to capture and ultimately consult historic change data and information and thereby better inform their change activities and make them more effective is a significant undertaking and should not be underestimated. In many, if not most, cases this will require a cultural shift in the organisation. In my experience such a change in behaviour is challenging and can only be achieved if driven and reinforced by all management tiers in the organisation. An organisation with an established Change Management capability is well placed to effect such behavioural change. Two key attributes of effective organisational leadership pertinent to this point are to 'lead by example' and 'actively and consistently promote the worth of any required behaviour change'. 
In order for a Change Management capability to be both effective and sustainable it should be essentially organic in nature. That is, employees from the organisation itself should be directly involved in its initial development, management and future evolution. To this end consultative support, though probably initially required, should be low profile and used conservatively i.e. the venture should be seen as 'for the organisation' and 'by the organisation'. 
Change Management Capability Benefits
The key benefits to be gained by establishing an organisational Change Management capability include: 
a trusted source of Change Management leadership and knowledge

a facility to deploy and support consistent change methods and processes

validation and support to major organisational change initiatives

a facility to capture the experiences of the organisation and the provision of the facility to improve in way that 'makes sense' to the organisation

greatly reduced external consultant and change support costs

provision of a focus for effective organisational stakeholder and communications management

provision of a 'clearing-house' function for otherwise disparate Change Management thinking (not all change management approaches are in the best interest or appropriate to all organisations)

provision of proven Change Management assets including:

tools

templates

worked examples

lessons learned

white papers

training material

presentation material

processes

change models

more effective Change Management resource management

identification, validation and exploitation of new approaches to business change e.g. Benefits Realisation Management (BRM)

to provide a base from which to break down the damaging negativity that often accompanies change and thereby raise the confidence level of the organisation in its ability to manage change

provision of a central agency capable of assessing and combating any negative effects to the organisation brought about by the increasing use of social media 

provision of direct support to programme (multi-project) and portfolio management facilities that need common date management and reporting processes

effective change stakeholder management

provision of a focus for organisational people engagement techniques e.g. action learning, appreciative enquiry

provision of a centre of excellence for all change related activities

a base from which to manage and deliver longer term organisational cultural and behavioural changes 
Note: Effective Change Management is dependent on an organisation's project and programme management capability. If this is found to be lacking a plan to improve it concurrently with the establishment of the Change Management capability needs to be established.
In the main, the role of such a capability would be 'service orientated' and, as such, seek to work harmoniously and in support of other key agencies in the organisation e.g. Quality and Business Improvement, Human Resources and each of the Operational and Support functions. Although the Change Management capability would have a focus on major organisational change it must also work hand in hand with any prevailing continuous improvement initiatives. This is to assure a coordinated approach to Change Management is achieved as well as ensuring the capabilities continued evolution and 'fitness for purpose'. 
Confidence
Organisations must generate and maintain confidence in their ability to manage change (Armenakis et al, 2007). A low level of confidence in an organisation's ability to manage and successfully deliver change can create serious morale problems which themselves can compromise a change initiative. A credible central Change Management capability, staffed (minimally but optimally) with Change Management professionals providing organisation-wide support, would work to build up and maintain this much needed confidence. 
There are several proven framework models that can be used to measure the confidence and morale factor. Armenakis was able to prove the effectiveness of his five sentiments model in gauging levels of confidence (Armenakis et al, 2007). As well as helping to identify areas of concern, models such as these identify and enable the required intervention activities to arrest the problems and get the change initiatives back on track. 
The positive influence of the Change Management Capability can be extended over time to encompass all aspects of the business; from business intelligence gathering and detecting changes in the operating environment, through to the realisation of operational change benefits. 
Change Management Leadership
Periodically, organisations need to achieve cultural shifts that result in fundamental changes in behaviour. These are often related to the introduction of new or revised 'mission critical' business processes. Sustainable behavioural (cultural) change requires effective sponsorship. The concept and effectiveness of sponsorship is something that the organisation needs to address from the standpoint and expectations of the sponsors themselves. Sponsors have a 'real job' to do which means that there are tangible activities and tasks associated with change sponsorship. The greater the impact a change has on the organisation the more prevalent and pro-active the sponsorship requirement is. Change sponsors would benefit both directly and indirectly from the existence of a Change Management capability. As well as a source of guidance and support to undertaking their sponsorship role the sponsor's task is made easier as the expectation and change roles of the workforce within their area of responsibility is made clearer and can be monitored. 
A Change Management capability is ideally suited to provide a 'conscience' function to the organisation. Working across all levels of the organisation it is well positioned to identify and address each of its Change Management shortcomings. In acting as a centre for Change Management excellence it would not seek to displace or diminish the roles of individuals in the organisation but to provide consistent support to help them achieve their change objectives. Overseeing and maintaining a view of both the organisation's change capabilities and its change initiatives, it would seek to relieve the Change Management burden from the personnel who are required to manage and support change activities on top of their normal 'day-job' commitments. Kanter (1983) states that: 
For change to be a way of life rather than an occasional traumatizing shock, the "indians" as well as the "chiefs" have to be engaged in change making and change mastery – while still doing their necessary jobs.
I often hear transformational change being referred to as a programme with finite boundaries and project-like attributes. However, such is the dynamic nature of the world today that transformational change must be increasingly regarded as a 'continuous' process. Much of the old-style contingent style of Change Management (where organisations could take more time in planning and executing their major change programmes) has been replaced with the need to accommodate emergent change. That is, the need to establish the capability to process change on an as-required and more 'immediate' basis and not wait until the pressure for change builds up to the point that significant step changes are required. Such reactive approaches to change are themselves often destabilising with the added downside that inefficiencies and poor performance will persist until the remedial changes are successfully implemented. Furthermore, history tells us that many change programmes, conceived in a contingent manner, fail to deliver some, if not all, of their intended benefits. The imperative to regard transformational change as a serial occurrence lends weight to the need for organisational Change Management Capability.
There are consequential benefits to be gained from establishing an effective Change Management capability that becomes recognised as a centre of excellence for Change Management knowledge and thinking. Having a holistic and progressive approach to Change Management helps to define and characterise an organisation and contributes positively to the need to present a positive image to both internal and external agencies alike e.g. customers, suppliers, potential employees and the 'competition'. 
Delivery
The key function of such a capability would be to provide a service to those in the organisation with a Change Management need or degree of responsibility. Even for large organisations the capability would ideally consist of only a small central team comprising two or three personnel providing a range of services across the entire organisation; the main plank to the approach being training and knowledge transfer, ideally from and between indigenous members of the organisation. A key success driver of such a venture is its integration into the functions and working practices of the organization. Representation from all stakeholder groups should be sought when establishing and maintaining such a capability. Direct involvement by the stakeholder groups within the organisation in shaping and evolving the capability would help ensure its utility, buy-in and worth within the organisation. 
To increase its effectiveness in large organisations and to achieve the required penetration, it is recommended that the central resource be supplemented by a network of Change Management 'experts' to support the delivery of services into their own working environments. 
It would provide Change Management support to all levels of the organisation from:
strategic objectives to the realisation of benefits required of the agreed changes

business intelligence to new capability institutionalisation

balanced scorecard to organisational capability maturity 
Communications medium used would include:
formal training

presentations

coaching and mentoring

intranet based information

newsletters

a helpline and email help address

social media including Facebook, Twitter etc could be used (where and if appropriate) to enable the lateral distribution and movement of Change Management knowledge and information around the organisation. The importance of social media in the Change Management space will be the subject of a future paper 
The resulting movement of Change Management related information between interested agencies would be an important step forward for an organisation. This would raise the dynamic at the working level and help remove the bureaucracy behind the ownership and sharing of information which is often found in organisations today.
Making the decision. Dedicated 'Change Management Capability' or 'Off-the-shelf' external consulting support
Although promoting the utility of setting up an indigenous Change Management capability, this paper recognises that some organisations are not in a position to achieve an acceptable return on investment for such a capability.
Whether a Change Management capability is contemplated or not depends greatly on the organisation's understanding of its real Change Management needs and its overall strategic approach to Change Management. In the main, if an organisation does have a strategic position it will probably be underpinned by alignment to one of the two overriding paradigms:
On an as-needs basis rely on external Change Management support. This means deferring the upfront investment in a change capability and, when the need for change does arise, establish the minimum Change Management knowledge and resources required to achieve the required changes which, when the change is completed, are then released 

Become self-sufficient in their ability to address their current and future change needs and commit to and invest in an optimised 'on-tap' level of Change Management capability 
There is not necessarily a particular right or wrong approach for a given organisation, however the contextual size and scale of the following attributes could be used to inform the decision on what is the best for a given organisation:
number of people in organisation

number of different external stakeholder groups

staff turnover

prevailing culture

nature of market

structure of organisation

diversity of product or services offered

market maturity

market volatility

number of competitors

potential for predatory arbitrage activity

reliance on cutting-edge technology

degree of global operation

scale of overall operation

nature of business

regulatory pressures

reliance on economic environment

history of frequent change for whatever reason
Note: In the main each of the factors identified above can be assessed quantitatively and as such are well able to support the development of business case (should one be required) for the investment. If a benefits driven approach is taken when constructing the case the positive impact on the organisation's work force can be factored into the case e.g. morale, confidence. 
Generalisations
Organisations with strong and aggressive competition, and it follows therefore with a need to adapt to environmental changes quickly, would be well-advised to consider adopting the organisational capability approach. The emergence of cloud computing has in itself challenged many of the norms regarding investment in infrastructure. Lower investment needs coupled with the increased availability of multi-configurable, high-access applications mean that organisations are more able to react and advantage themselves. But this of course is also true for the competition. Organisations operating in markets with large infrastructure investments and operating in niche or slow moving markets might be better advised to adopt the 'as needs' approach with minimum on-tap capability.
What the above criteria shows is that it is possible for an organisation to make an informed decision on which approach is right for it.
Some of the pros and cons surrounding these two distinct approaches are described below:
As needs approach:
Pros

low near-term cost
able to go to 'market' to select required 'current' change management expertise
no strategic training investment costs
no need to establish and fill permanent change management posts
organisation not 'burdened' with permanent individual responsibility toward organisational change

Cons

unable to draw on assured level of Change Management knowledge or capability

inability to predict duration of change initiative

organisational tendency towards only entertaining change when pressures for change become high profile and demonstrably intolerable

workforce must be 'unfrozen' from a near 'deep-frozen' position in preparation for change

mobilisation of in-scope organisation must be achieved; those involved with the change, those impacted by the change and also those that are aware that a change is to take place. Most change initiatives affect the majority of personnel within a given organisational scope.

must pay market rates for required Change Management knowledge
Capability approach:
Pros

organisation maintained in a change-ready state of mobilisation

opportunities to exploit change driver ahead of pay-as-you-go competitors gives competitive advantage

Change Management knowledge and capability can be established and maintained within 'whole' organisation

Change Management memory provides organisation with ability to record and capitalise on lessons learned

latest Change Management thinking, tools and methods can be evaluated and assessed for appropriate implementation off-line e.g. BRM

Cons

relatively high near term cost

organisation must come to terms (educated) on need to achieve such a change capability

no place to hide. All change drivers are scrutinised and decisions (from wherever they are taken) are qualified and recorded for future reference 
The required assessment to decide the most appropriate approach that should be taken can be achieved using internal personnel. However, the need for significant objectivity requires that an external mediator should, where possible, be used. External mediators may be found within other areas of the subject organisation e.g. this does not have to be undertaken using an external supplier.
Investment consideration
The establishment of an appropriately sized Change Management capability need not attract sizeable additional funding. In fact, by centralising aspects of the Change Management function from a headcount and expended man-hours point of view, the efficiency of the capability could result in direct savings. By utilising pre-existing Change Management spend data the resulting business case should reflect an overall improvement in cost efficiency.
To conclude
Although this paper puts up a strong case for the establishment of organisational Change Management capabilities, it has attempted to introduce an element of objectivity in order to support the internal assessment of whether such an undertaking would represent a worthwhile investment for a given organisation.
There is nothing trivial about transformation change but the application of common sense and reasoned knowledge can do much to make such change successful. More and more, change is being seen as something that all must accept as being normal and necessary in the workplace. The organisations that fail to respond to the growing evidence that supports this view are not only putting themselves at risk but are failing to protect the interests of its people. The needs of an organisation's people are represented in this paper with recognition being given to the fact that such a capability needs to be owned and shaped by the community it serves. As with many aspects of Change Management, failure to reconcile the people aspects of change can result in poor performance and reduced morale. The leadership behind such an undertaking must therefore understand and be empathetic towards the people needs at all levels of the workforce.
In order for it to remain fit for purpose such a capability would itself need to be continually tested to ensure that it meets the needs of the organisation and its people. This 'testing' should be an integral function of the capability itself but scrutinised by the overarching organisational quality and compliance function.
It is clear that, in the current economic climate and with an ever increasing pressure and frequency of change, an organisation owes it to its people to get Change Management right. Establishing an indigenous Change Management capability sends out the message that the organisation takes change seriously, respects and cares about the well being of its personnel and, above all, is determined to succeed.

References:
Argyris, C (September-October 1977) Double loop learning in organizations, Harvard Business Review, p.124 
Armenakis et al (September-December 2007) A Top Management Team's reactions to Organizational Transformation: The Diagnostic Benefits of Five Key Change Sentiments, Journal of Change Management, Vol. 7, Nos. 3-4, pp.273-290 
Beer, M. & Nohria, N. (2000). Cracking the Code of Change. Harvard Business Review. 78(3), 133-141 
Burnes, B (2009) Managing Change, 5th edit, Harlow, England, Pearson Education Ltd 
Cameron, E and Green, M (2009) Making Sense of Change Management, 2nd edit, London and Philadelphia, Kogan Page Ltd 
Conner, D. (1992). Managing at the speed of change: How resilient managers succeed and prosper where others fail. New York: Villard 
Elrod, P and Tippett, D (June 2001) The "death valley" of change, Journal of Organizational Change Management, Vol. 15, No. 3, 2002, pp. 273-291 
Harris, N (1997) Change and the Modern Business, London, Macmillan Press Ltd 
Hayes, J (2007) The Theory and Practice of Change Management, 2nd edit, Basingstoke, Palgrave Macmillan 
Jenner, S (2012) Managing Benefits, 1st edit, Norwich, TSO 
Kanter, R  (1983) The Change Masters, London, Unwin 
Kolb, D (1984) Experiential Learning, New Jersey, Prentice-Hall, Inc 
Kotter, J (1996) Leading Change, Boston, HarvardBusinessSchool Press 
Paton, R and McCalman, J (2008) Change Management – A Guide to Effective Implementation, 3rd edit, London, Sage Publications Ltd 
Senior, B and Fleming, J (2006) Organizational Change, 3rd edit, Harlow, England, Prentice Hall